BEACHES
If you are planning a wedding on a romantic beach, Maui has many choices for you. Here are our favorite beaches that make our Maui beach weddings so special.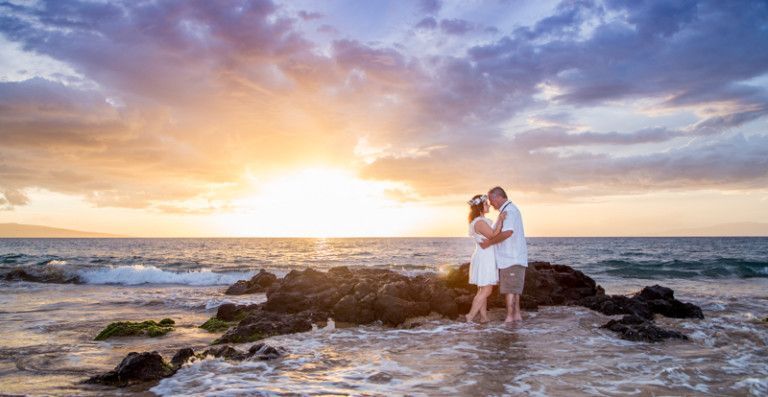 Ulua / Mokapu Beach
Two of Maui's beautiful wedding venue beaches can be accessed by the same pathway. The one on the right is Mokapu Beach and the beach on the left is Ulua. Ulua is the preferred beach as it is one of the most beautiful beaches in Maui showing up on the top ten list of beaches in America. The actual name of the beach was Kaula'uo which is translated as a rope or string such as from a ukulele but this was before World War II. During the war, the beach was called "Little Tarawa" by the US Marines as this was the name of their mission. The name stuck with the locals, however, when the Wailea resort was developing, they changed the names of many beaches and Ulua got its name from one of Hawaii's main fish. Another meaning of the word Ulua is "to assemble" which makes it a wonderful beach for a wedding. Be prepared to see other brides on this beach at sunset due to its popularity.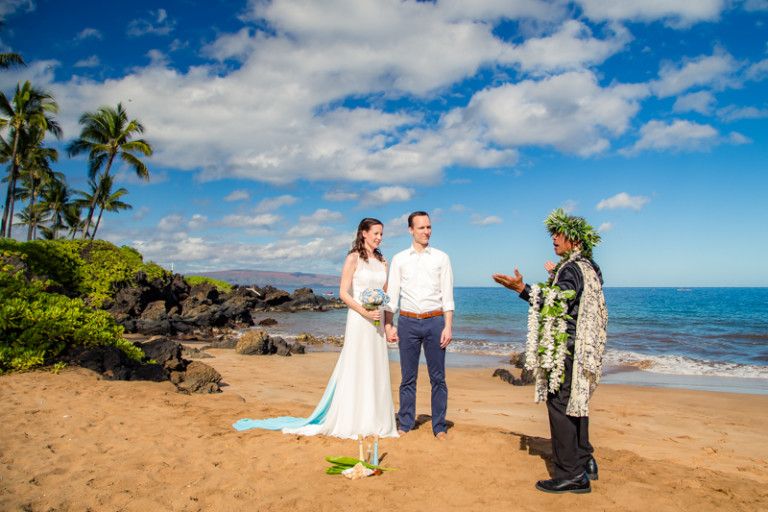 Poolenalena Beach
Po'olenalena is a long, sandy beach mostly used by the locals. The name actually means "yellow head" and refers to where to meet at that beach. When meeting friends, they would say to meet at Po'olenalena which is a yellow streaked rock. You can still see the rock on the "Mauka" (mountain) side of the road on the golf course. This beach has spectacular sunset views and is uncrowded at that time of the day. It's a wonderful place to have a wedding ceremony and to take great wedding pictures. Definitely a beach that is high on our list. An excellent choice for any size of weddings. Offers large beachfront parking. Quick video sample can be view at: https://youtube.com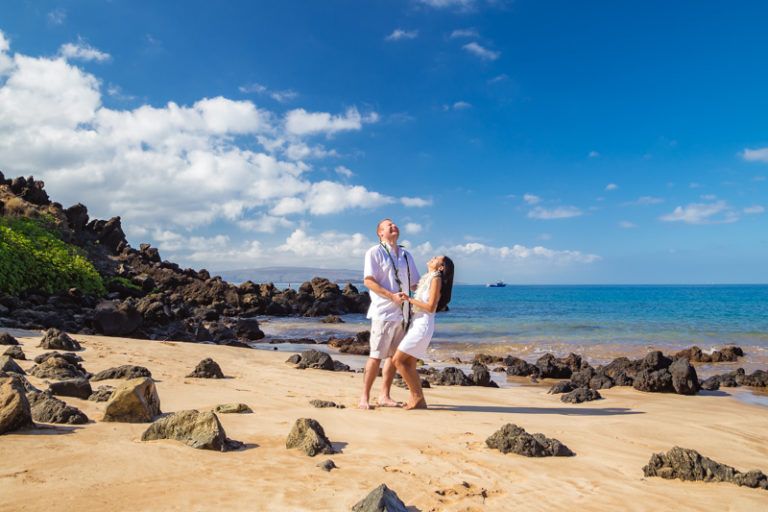 Palauea Beach / White Rock Beach
Palauea Beach is known for the sparkling, white pebbles that leads to the sandy beach and is commonly called "White Rock" Beach. This is another local beach that does not see many tourists. The beach is a crescent shape which helps to block the trade winds. Palauea is the perfect place for a bride that will be wearing a veil. At the rocky point, the water is especially clear and helps to set up great photographs with crashing waves. Palauea means "lazy" and makes this a wonderful swimming beach as the sand continues in the water to make it easy to enter the ocean. It's beautiful as a wedding site and also wonderful for a honeymoon. Very popular wedding beach with scenic backgrounds...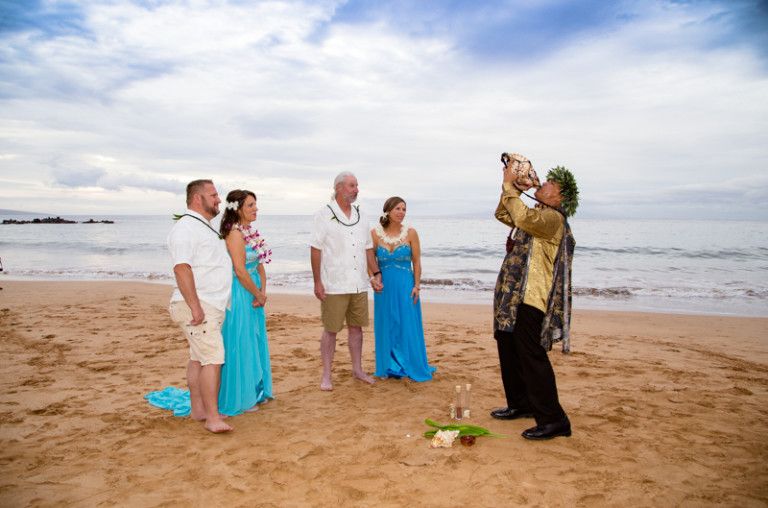 Wailea Beach
Wailea Beach is a long, white, soft, sandy beach located in the front of the large resorts. The beach is very popular with tourists for that reason. You can see spectacular sunsets there and during whale season many whales are seen right from the beach. If you want to have a wedding reception at one of the resorts, this is a very convenient site for your wedding guests. The name Wailea is translated into "Joyful Sea" but many people call the area the "dancing sea". It is a particular joyful site to have your wedding. Can hold large group weddings and offers fairly easy parking If you are not staying in near by resorts.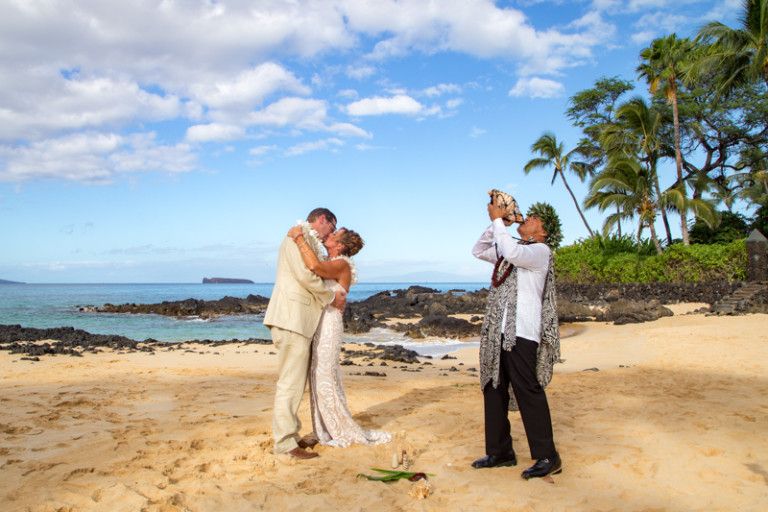 Makena Cove
Paaka Cove the original name of Makena Cove means "enclosed shadow". It still has a rock wall from long ago protecting the cove which is how it probably got its name. Some locals call it "secret cove" but the secret is long gone as this is a popular beach for snorkeling and diving by the tourists. The view is breathtaking and you can easily see the two outer islands of Molokini and Kaahoolawe. It is surrounded by lava rocks but there is a nice sandy space to go into the ocean. There are many little tide pools around to check out some of Hawaii's wonderful species. Early morning weddings are best here so that you have the area to yourself. It's a great place for very different wedding photographs due to the scenery. Most popular wedding beach in Maui. Easy parking and great sceneries...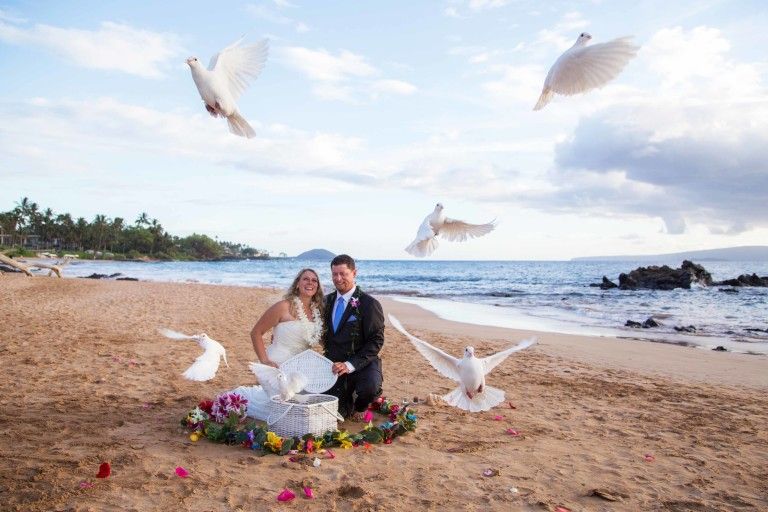 Keawakapu Beach
Keawakapu Beach is another beautiful beach with a large sandy shoreline. It's tucked away in a residential area so the beach remains secluded. The ocean is calm in this area and since it is in South Kihei, has very sunny days. The scenery on both sides of the beach is how you want Hawaii to look with palm trees, sand and clear, blue water. Keawakapu also means a white conch type shell which introduces that the bride is coming and that it is the start of your ceremony. It makes a beautiful site for your wedding and a great place to swim during the rest of your stay.
Sugar Beach
Sugar Beach was given the name because of its soft, white sand. It's a long stretch of beach where you can always find your spot away from all others to have a romantic wedding ceremony. It is a place to enjoy colorful sunsets and a calm ocean. During the late afternoons it can get very windy from the trade winds but it calms down for sunset. The shoreline is not as large as others in most spots but the view is great.
Ironwood Beach
OneIoa Beach, the Hawaiian name for Ironwood Beach means "long sand" and that explains this beautiful beach. The beach is very nice and quiet as the tourists have not really discovered it yet since it is on the west side of the island and sits behind private residences. It continues to remain uncrowded and has wonderful views especially of Molakai. The beach is exposed to a north swell but the lava rock point does protect it. There are many different wedding pictures that can be taken at such a spectacular site. Beach can be a bit windy in the afternoon but settles down before sunset. Great for small size weddings.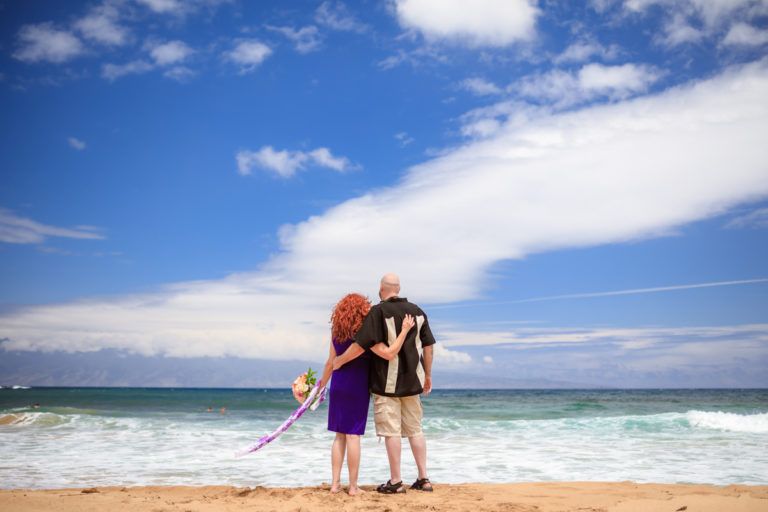 Fleming Beach
Fleming Beach is a pretty beach with white, soft sand and the bluest water. The sand continues into the ocean for wonderful swimming and boogie boarding. It does receive its share of tourists from the Ritz Carlton but is usually not over crowded. It's a nice beach for renewing vows with young family members. Although it has great waves, the break is very fast in the winter. In the spring and summer, you will find the waves to be just perfect. Fleming can be a bit windy in the afternoon but settles down before sunset. The beach was chosen as the top beach in America in 2006. Excellent choice for large groups, offers large parking and bathrooms.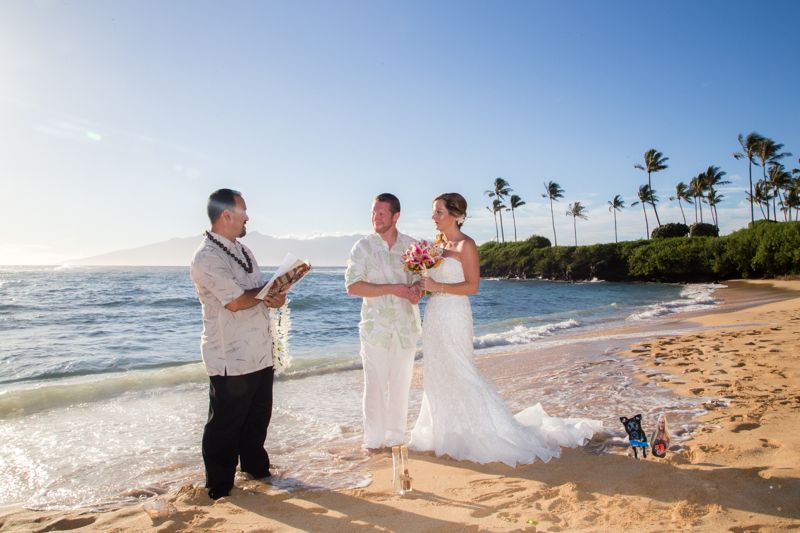 Kapalua Bay Beach
Kapalua Bay Beach is a crescent shape beach that is enclosed by two reefs. The beach has soft, white sand and beautiful, calm, blue water. The beach can be fairly crowded as it is a popular beach in Maui but it never feels over crowded due to its size. Towards the north point reef, the water is exceptionally clear and makes for great snorkeling and has many beautiful fish to see. With beautiful sunsets, there will be other brides and ceremonies on the beach. Although Kapalua translates to "War Clothes" there is no need to battle because you still can find a spot just for you.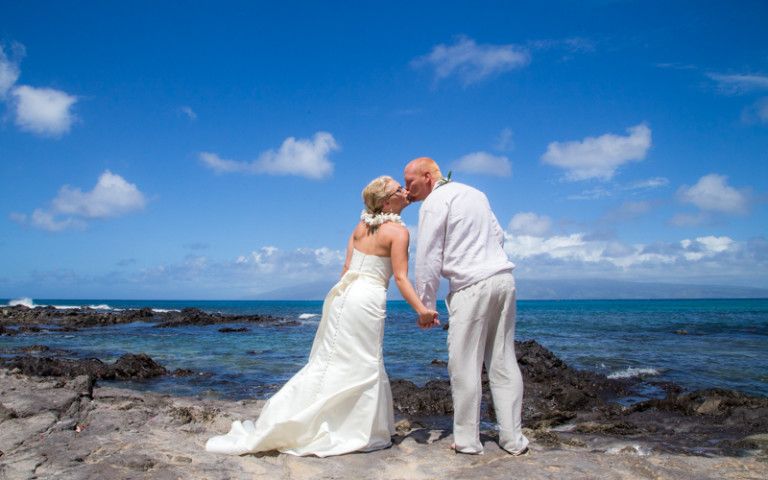 Napili Bay
Napili Bay is a sandy beach on the west side of the island. One of the more popular places for couples who would like the look of lava and Palm Trees showing the beauty of Maui. The water is calm and many sea turtles visit often. A great beach to experience a morning or sunset wedding or vow renewal. Excellent for small group weddings.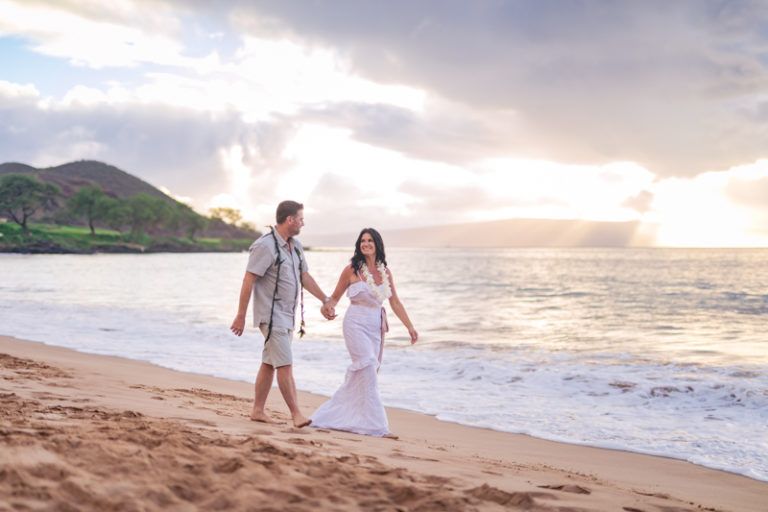 South Maluaka Beach
Scenic beach with a little green lawn overlooking ocean located in South Maui in Makena area. Couples can choose from green grass spots or sandy beach, offers easy parking even for a large group weddings. Beach has public bathrooms and it's great for a sunset weddings even on busy weekends. Morning offer a turquoise colors from the light sand.....
Ka'anapali Beach
By law, we are prohibited from performing ceremonies or doing any photography on Kaanapali Beach