Wedding Hair…Oh The Choices!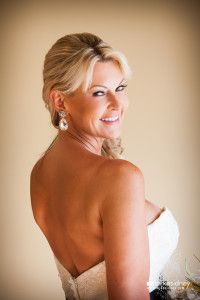 So Many hairdos…Maui Aloha Weddings to help!
Aloha Brides and friends,
A big decision of many brides on their special day – for weddings and vow renewals – is what should they do with their hair?
One piece of advice I would like to offer is – make sure you look like the woman your fiancée/husband fell in love with. So many brides want to try very different styles for that day and they are not happy with what they see in their photos. It's not them! I am not saying don't fancy up a bit but I am saying not to do anything radical. You don't want your husband expecting a beautiful brunette to walk down the aisle and instead see a blonde bombshell! Yes, unfortunately, it does happen.
What can you do with long hair? There are so many wonderful styles and the people we use always seem to do their best for our brides. If you have very full, wavy long hair, perhaps you would like to wear it down with curls or straight. Having a trim or cutting some layers if your hair is curly will not be a large change. However, if you always wear your hair straight, soft curls might be a possibility but don't overdo it. Even some soft layers would make a change for you but not a drastic one. If keeping your hair down, consider a beautiful Hawaiian Haku (flower lei for the hair) instead of a veil to crown your head. They look beautiful!

You can always wear long hair half up curled, braided or just pulled back. Here are some top wedding pictures of that idea. You will notice that many brides take advantage of our beautiful Hawaiian flowers to accent the hair do.

If your long hair is thin or if you feel like it – they do have wonderful casual updos for brides now. Remember if you wear bangs, you should still have them on your wedding/renewal day and not push them up or to the side. If you don't wear bangs, that is not the day to have some cut or to have some to the side even if longer. Here are some of the newest bridal ideas for updos.

If you hair is medium length, you can either wear it up or down. Many brides do get a trim for their wedding or have their hair layered to make if a bit different than usual. For the most part, you should follow the same rules as for long hair.

When you have short hair, you actually can do a bit more to change your look. Very straight short hair is probably going to stay the same which is when a Haku really looks nice. If your short hair has more volume, you can go wavy, curly or straight. But remember if your hair is usually brushed back from the face, you probably want to keep it that way and not have it coming forward. That goes in the reverse as well.

All of these suggestions are depending on what type of head piece you have, flowers, tiaras, hats… Definitely try out the new look you would like to have for your wedding with what you decided to have as the head piece. If you are not going to use a head piece, there isn't a problem. Many brides have fallen in love with flowers, veils, hats or other head pieces that just don't go with what they usually do with their hair so they change their style for the head piece. If you want to change your style before the wedding, do so before you purchase a head piece so that it will look perfect for your big day.
Don't forget to be comfortable! I had a long mantilla when I married and of course the photographer wanted it on for the pictures. It was a real pain and came off way before the pictures were wrapped up. I wanted to dance and have fun and not worry about the veil. Remember that if you are having a long veil, hat or tiara. Think about how much it weighs and if it's going to sit straight when you start enjoying your wedding or vow renewal celebration.